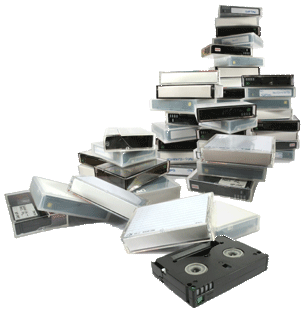 Video to DVD Box Set Service
Have a whole collection of video tapes?
Have them made into a personalised DVD Box Set!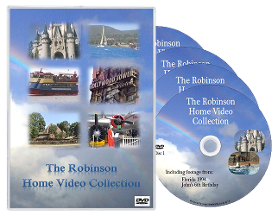 If you've been making home videos for years, it is likely you'll have a whole stack of VHS and Camcorder tapes.
You may not have looked at any of them for years either and have no idea what's on them, or how much footage there is.
We offer a complete and straightforward transfer to DVD service, presented in beautiful, personalised DVD box sets.


What's Involved?

First, send us your tapes (details below). If you can, it is helpful if you can date any of the tapes or label them with some sort of order - this is not always possible.

We will then scan your tapes. When complete, we will email full details such as tape lengths, suggestions as to how we can arrange them onto DVD and the respective costs.

Sometimes people record dates on screen when filming so we try to pick up any clues along the way to help with putting everything in the correct order.

We then agree with you how to arrange them into a DVD box-set. Whilst doing so, we will do our best to cut out obvious unwanted clips, where the camera was left running and the floor was filmed or bits of blue screen between scenes. We can also offer you the video files as a way to future proof your footage. Either send us a USB stick or one can be provided for £12.


To maximise quality we keep the limit per DVD disc to 75 minutes. (Some companies will place up to 4 hours on a single disc, however the footage has to be highly compressed creating a lot of pixelation, hence our limit for the sake of quality)




No Obligation
More footage or cost than expected? - Either pay postage for return of tapes or just have some completed for now.
Price Examples:
Up to 75 Minutes - 1 Disc - £20
Up to 2.5 Hours - 2 Disc set - £30
Up to 5 Hours - 4 Disc set - £50
Up to 7.5 Hours - 6 Disc set - £70
Up to 10 Hours - 8 Disc Set - £86
Up to 11.5 Hours - 10 Disc Set - £100
The only additional costs are for postage (Special Delivery or Parcel Force £10) and if optional
extras are requested such as additional copies or a memory stick with a video file backup.

Most Common Formats Converted: S-VHS, VHS, VHS-C, MiniDV, MicroMV, Video8, Hi8, Digital8



Many people prefer DVDs as video files are currently fairly restricted to play and not easy to get on a TV. However, with DVDs likely to die out over the next 10-20 years video files future proof footage. Hence if you do go ahead with DVDs you can have the video files for free, we would need to provide a high capacity memory stick for £12 unless you want to provide one of your own (usual minimum size 8-16Gb). Either request on order form or let us know with your contact details.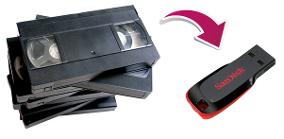 To Proceed...
Package your tapes securely and post them to the address below. Either include an optional order form or include your contact details - we will email to confirm receipt so keep an eye on your email spam bin.
We'll email again when scanned to confirm options and costs, then whenready with options to pay online by card, PayPal, bank transfer etc.

Update Media Solutions
19 Bowland Road
Bingham
Nottingham
NG13 8RW

01157148715 - info@updatevhs.co.uk

Broken or mangled video tape? Tell us on the order form and we will repair it for a charge of £10. If for any reason we cannot repair it, you will not be charged!
© Copyright Update Media Solutions 2010-2022