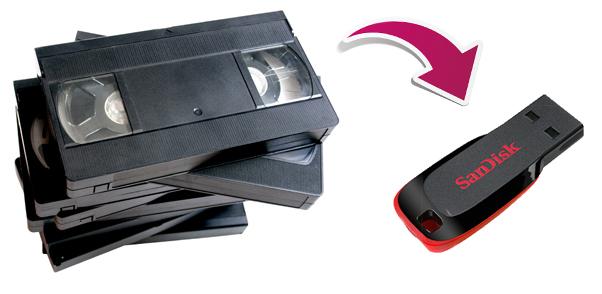 Our Video Files Transfer Service converts your video and camcorder tapes to digital files for computer playback.
These can then be stored on USB Memory Sticks, Computers, Hard Drives and online.
They can be shared and edited with ease.
The reality is that DVDs are on the decline. Many people still have it as their preference as it's an easy way to get footage onto your TV. However we are in a transitional phase with TVs slowly becoming internet enabled and DVD players slowly going out of fashion as the ability to stream films grows.
We can supply your converted footage from all kinds of VHS and Camcorder tapes to standard MPEG2 video files at the basic following prices:
For the first 10 hours or less of footage - £5 per hour
For further footage beyond 10 hours - £4 per hour
Cost will be based on actual footage, so for a three hour tape with one hour of actual footage, just one hour will be charged. Two half hour tapes would be charged at just one hour.
We supply MPEG2 as our preferred quality choice however any other format can be supplied on request at no additional cost.
You can either send a USB stick or External Hard Drive or we can supply a suitably sized USB stick for £12 (Allow 3Gb per hour of footage)
The only other cost is postage (£10.00 Special Delivery or Parcel Force)
This service is also available as an add on to our 'Transfer to DVD' services.
To proceed package your tapes and send them to us at the address on the contact page or on the optional order form found by clicking here
Need some editing doing? Have a look at our full video editing service: